This is the house that started it all.  My family has been buying, selling and building in The Kingsway area in the west end of Etobicoke (Toronto) long before I lived here…long before most people have lived here.
A Tale as Old As Time
My family has roots in the west end of Etobicoke about as old as time.  Honestly.  My maternal grandfather's mother bought my grandparents their first house on Royal York Road as a wedding gift.  At the time, the area all around the 2 bedroom bungalow was completely undeveloped and rural.  After living in the "little" house for many years, my grandfather purchased the land beside it and built the "big" house.  This is how my family has referred to these two iconic houses for eons.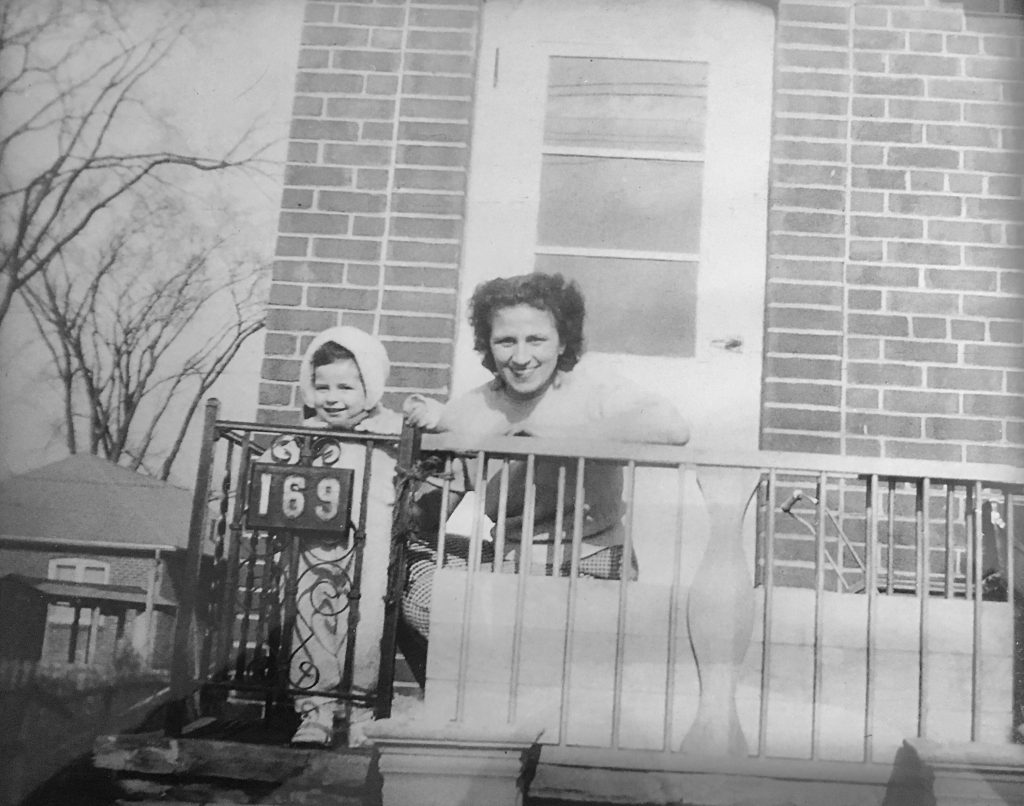 My nana and my mum (as a toddler) on the front porch of the "little house".
We Were Soooo Young…
Cut to many years later, my parents purchased the "little house" from my grandparents and we lived there as a family for the first 4 years of my life. That was my first time living at the "little house".  Yes, you heard me right…it was the "first" time I lived there.
Sean and I on the front porch of the "little house" on the day we took possession of it, 1999
When Sean and I got married almost 19 years ago, my nana (my mum's mum) still owned the "little house".  We purchased the house from my nana two months after we got married and spent seven weeks gutting and redoing it. It was a small two bedroom bungalow.  While it was only 800 sq. ft. on the main floor, we took that 800 sq. ft. and made it WORK for us.  On my parents' advice (my father, Ron Carter, is a well known local architect), we decided to make the two bedrooms on the main floor into a family room and moved the bedrooms to the basement.  We were able to make use of the existing rec room in the basement as a large master bedroom, complete with a large walk in closet.  Tristan's nursery became the "100 Acre Wood", straight out of Winnie the Pooh (I was really in to painting wall murals back then).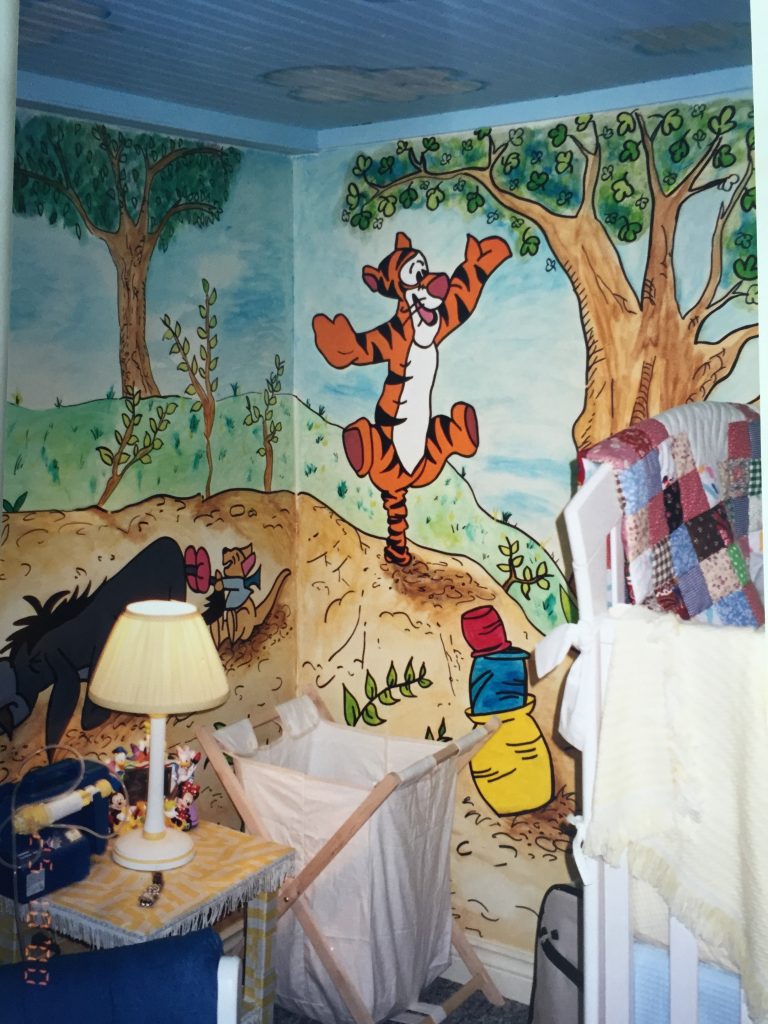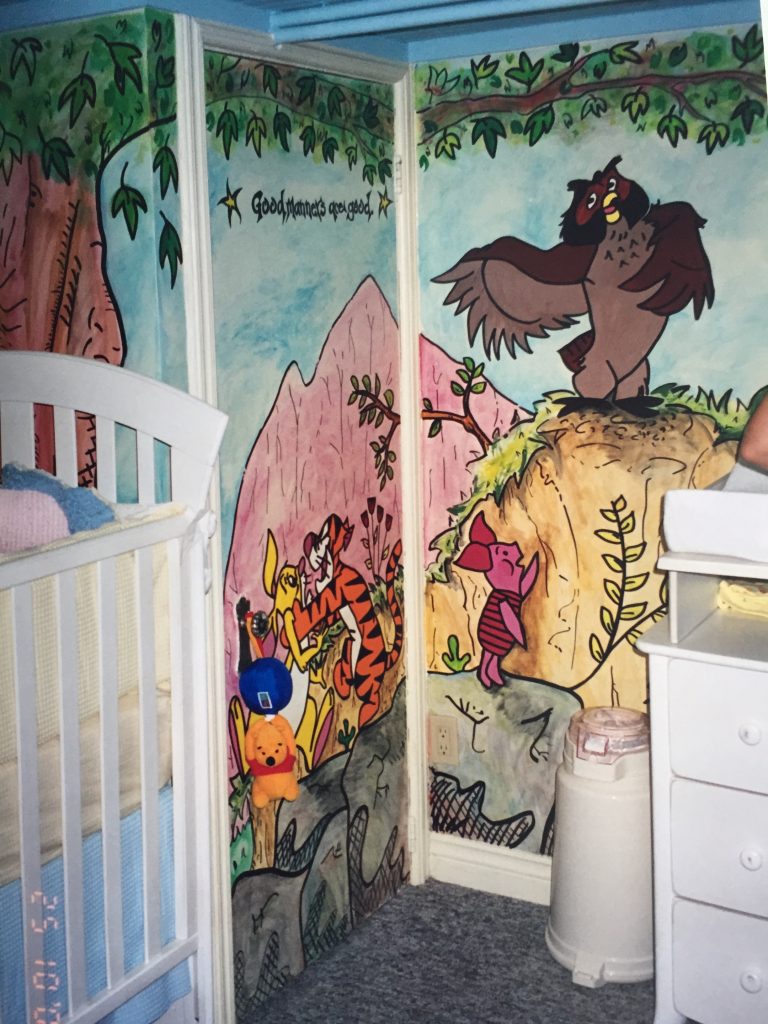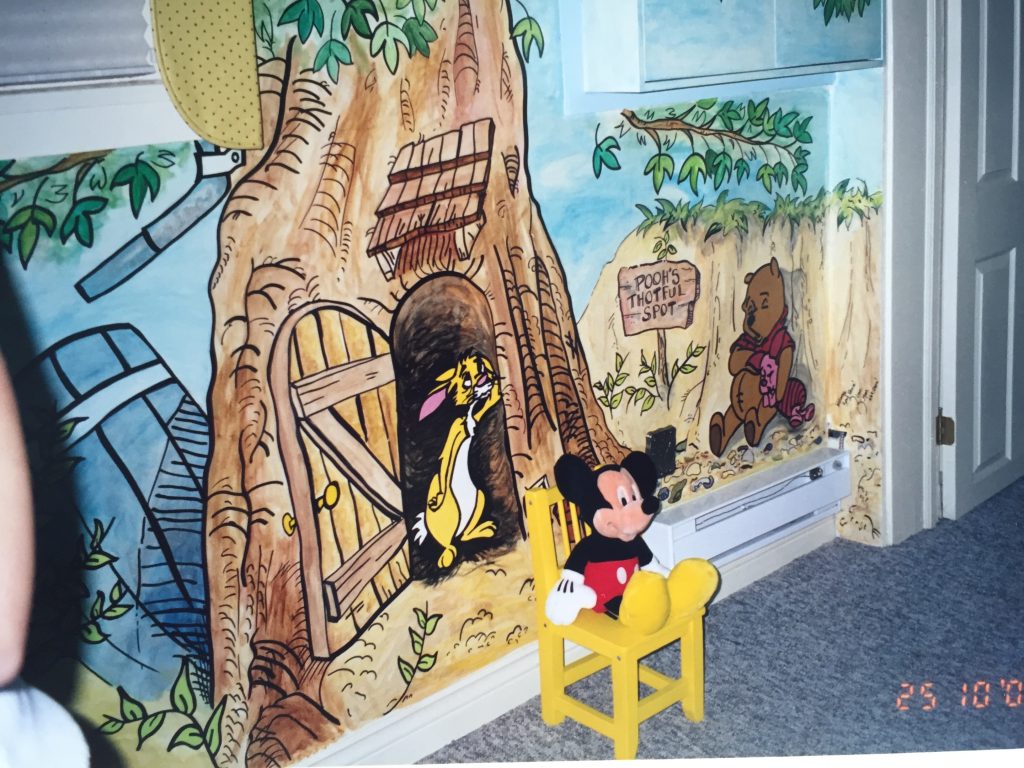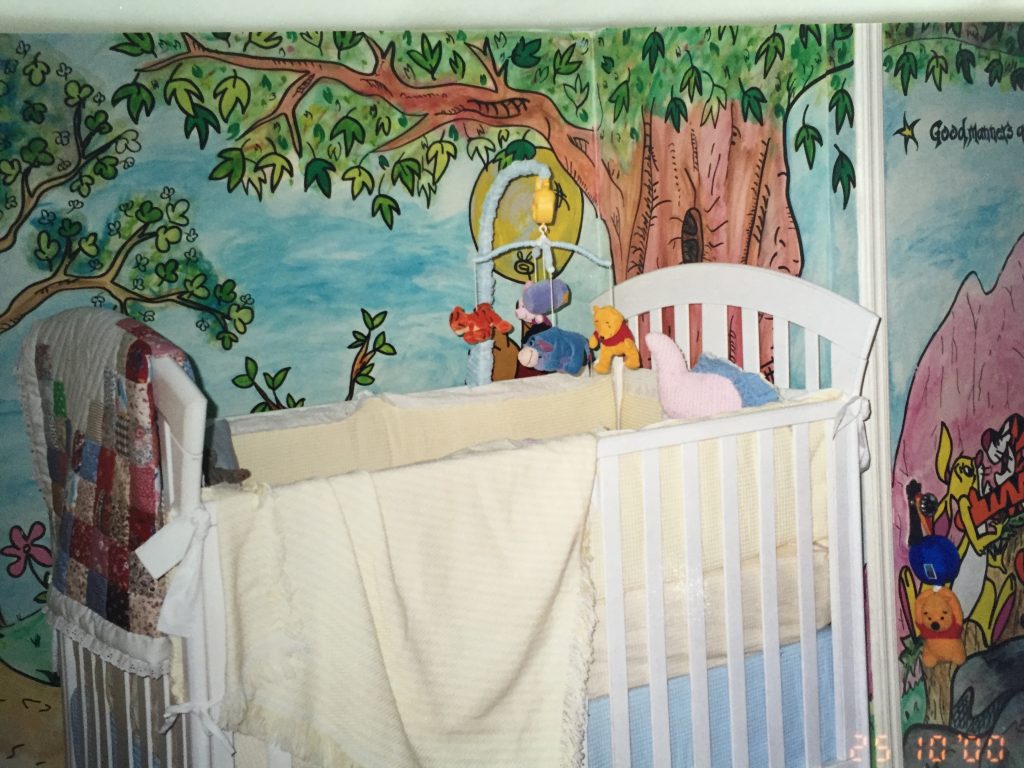 Tristan's nursery, 2000
And Then Came Tristan!
On the main floor, we were able to have a living room, dining room/kitchen AND a good sized family room.  When we took the ceiling out of the two main floor bedrooms, we discovered a loft/attic space, that we finished and turned into our office. It was the biggest tiny house ever!! It was the first of many large scale renovations and new construction projects we have undertaken over the years.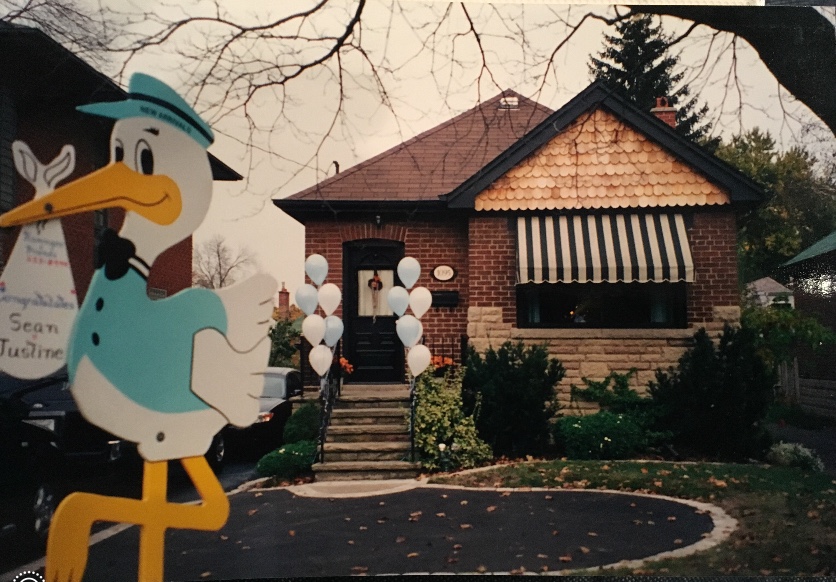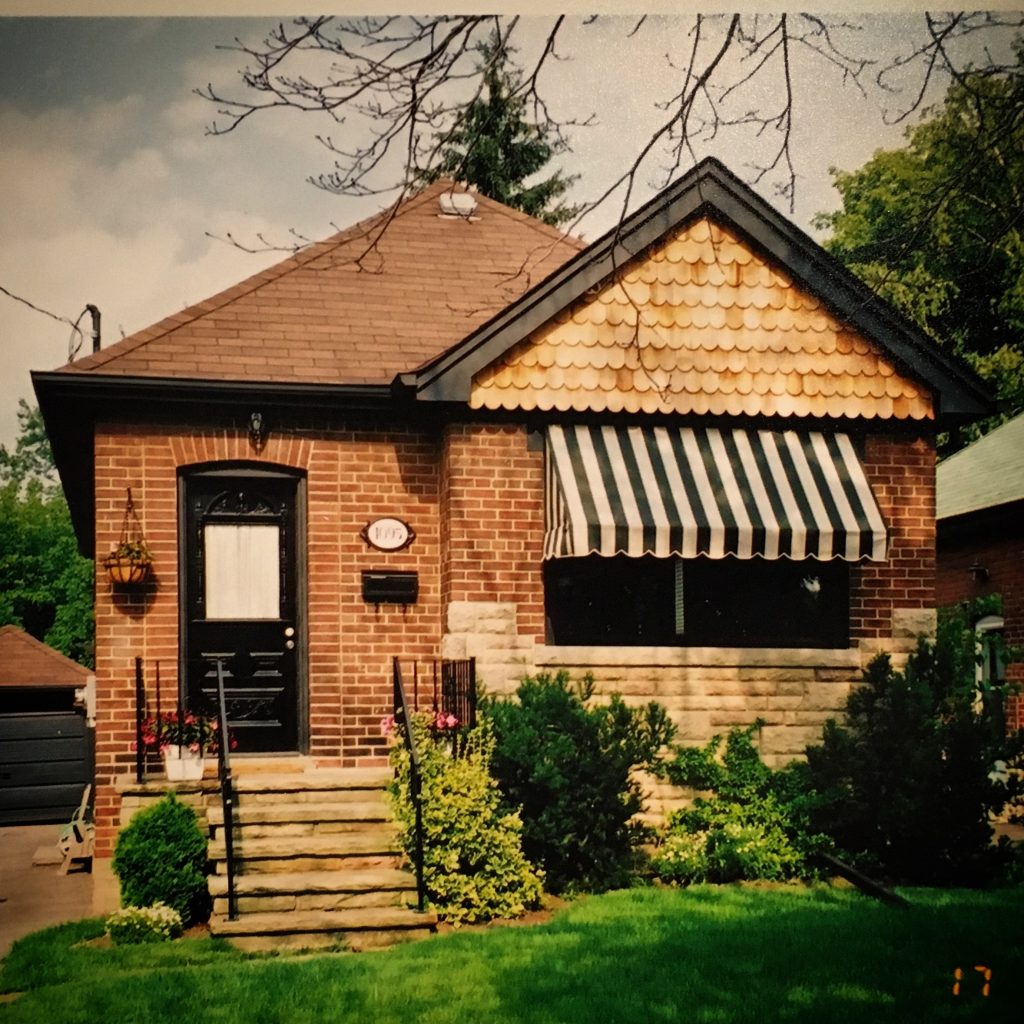 Sean and I sold the "little house" to my sister in 2001 and moved on to our next renovation project (that is a blog post for another day).  Melanie lived there happily for several years until she got married and then purchased the "big house" beside it.  The "little house" was put on the market and was sold to someone who was not related to us for the first time in over 60 years!  The new homeowner was great, as was the homeowner who followed.
WARNING: What Happened Next was SHOCKING
Approximately seven years ago (and about 100 houses later–this is how my family rolls) the "little house" made its way back to the market.  What?  The "little house" was for sale???  Can anyone guess what happened next???  Wait for it…yes, my parents BOUGHT IT BACK.  Only this time, it was in for BIG changes.  REALLY big changes.  They tore it down and built a brand new "little house"–this time it was two storeys.  Photographs courtesy of Peter A. Sellar.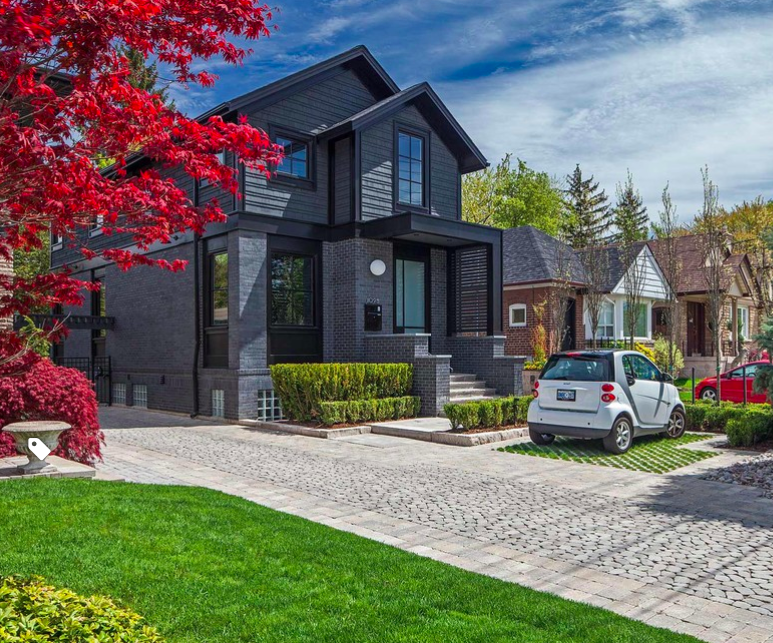 Anyone who knows my family knows these two houses on Royal York Road.  Many people don't know the full history of them, however.  It's often difficult keeping track of our family houses!  My family were actually some of the original "settlers" of the Kingsway in Etobicoke.  Not many folks around here can lay claim to that fact!
Adventures in Real Estate
We plan on writing a series of blog posts in the near future, detailing our personal home adventures and how we have repeatedly taken the "worst" house on the street and have given it new life.  We hope you will stay tuned and enjoy our adventures in real estate!
Justine