We thought we should take a moment to let you in on our decision as to why we chose to partner with Royal LePage Terrequity Realty, Brokerage.  Choosing a real estate brokerage is sort of the opposite of applying and interviewing for a traditional job.  We were in fact interviewing brokerages we wanted to work with.  It was very enlightening and a very interesting process.

Royal Lepage
After meeting with several different brokerages, we agreed to sign with Royal LePage Terrequity Realty, Brokerage at the corner of Bloor Street West and Montgomery Road for several reasons.  The office itself is quite small and boutique-like–that in and of itself fit well with our brand's vision and positioning.  The key determining factor was the ability to be supported by an excellent and 100% capable managing broker, Trish Manning.  Sean and I immediately clicked with Trish (it is hard not to).  Between Trish and our associate broker/manager, Shelley Weichel, combined 50″+ years of experience, we felt we were able to take the world of real estate on by storm.  Trish and Shelly do not actively trade real estate any longer and their key job is supporting their sales representatives in all transactions.
So while "new" to the world of real estate as sales representatives, we have easily been able to assure our clients that we are fully supported in our roles by countless years of experience.  In fact, we have found that all the agents in our office and many who we have met through the industry, have been 100% supportive of our decision.

Justine & Sean selfies…not so great
Our Experience
Sean worked in the digital media and marketing space for over 20 years for large corporations such as Labatt, Bell Media, Shaw Media and Sony Entertainment. Sean was a digital executive who lead high-performance teams that delivered outstanding business results. His proven track record of maximizing digital and social platforms to help build brands (such as HGTV.ca) and audiences is exactly the experience that we will leverage to market our clients' properties to highly targeted audiences. In addition, Sean has extensive experience in negotiating multi-million dollar vendor contracts and successful strategic partnerships. If you are looking for relevant business experience, look no further.
I have worked on and off for my father's architectural firm since I was 17.  I not only understand the process of architectural building and renovation intrinsically, I also understand how real estate has the power to work and build equity through first hand experience.  I have also had my own successful art/painting career for the past 15 years.  I will continue to paint in order to foster that side of my passion–why would I stop now? There is no reason why I cannot paint and trade real estate.
My family has bought homes and renovated them and they have bought houses and torn them down and built brand new ones.  They have done this over and over and over again.  We have lost track of just how many of these experiences we have been a part of.  Sean and I have bought and sold 4 of our own homes, each time increasing our equity exponentially.  We understand real estate…and we love it.
It's all about the…
When you boil it down, real estate transactions are as much about building relationships as they are about the purchase or sale of any one house.  Sean and I both work well with all sorts of people.  We both know how to listen.  We know how to work collaboratively with clients and with one another.  In one of our recent real estate transactions, the seller's agent told me that never in her life had she worked with agents like Sean and myself.  I don't know if we could receive higher praise than that. The relationship we forged with the selling agent only served to help us when we were in a bidding war with 5 offers. The seller's agent/sellers wanted our bid to win–and it did! This is a perfect example of why relationship building is so critical to this business.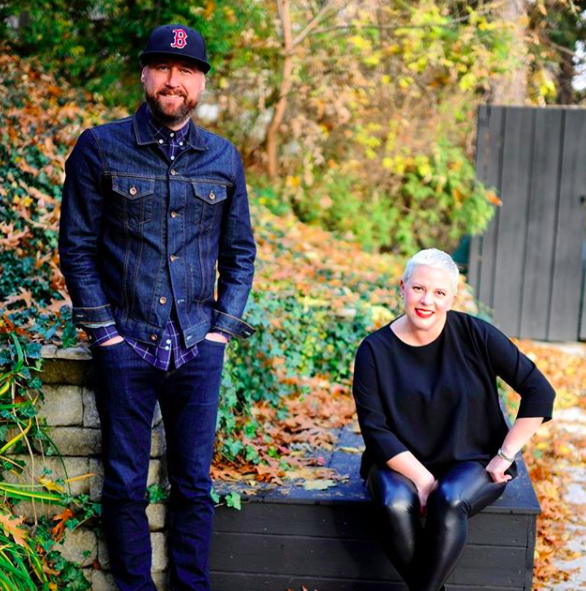 A much better shot…not taken by us! (photo by M.L. Young Photography)
While we felt somewhat awkward writing this blog post (as it is not in our nature to focus attention on our achievements), we did feel it was important to let our readers know that they are in fully capable hands. Our goal is to leverage our relationships and our knowledge in order to provide our clients with a truly unique and successful experience. #whatweknow?  We know how to work really hard.  #whatwedon'tknow? How to take a good selfie together.
Until next time,
Justine & Sean